VoIP
Finally, a telephony system built for small businesses like yours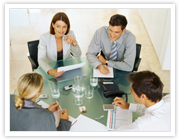 With all the technology out there for business communication, you need a cost-effective system that meets the unique needs of your company: Nothing more, nothing less. Small businesses need the same ability to stay connected as large enterprises, without the high cost of complex and tedious systems.
VoIP solutions from Convergent Systems Technologies are:
Affordable - low cost with no extra setup, installation, or maintenance fees
Easy to use - including an intuitive, user-friendly interface
Reliable - your hosted system is monitored and maintained 24/7
Mobile - answer calls in other locations, via laptop or forward to a mobile phone
Green - save on travel and paper waste by sharing information online
Competing in a global market means utilizing the most progressive communication technology available. With VoIP installation and support from Convergent Systems Technologies, your business can gain all the advantages of advanced communication methods without the high price tag.
Contact us to find out which VoIP system is right for you.
---
Areas Covered
We provide a range of Computer Support, Network Services and IT Consulting in Fort Myers, Cape Coral, Bonita Springs, Port Charlotte and Naples.
Local experts who can visit on-site: Fort Myers Network Services, Cape Coral Managed Services, Bonita Springs Backup and Data Recovery, Fort Myers IT Consulting, Cape Coral Cloud Computing, Bonita Springs VoIP and Phone Systems, Fort Myers Virturalization, Cape Coral Computer Hardware, Bonita Springs Office 365 and Naples Computer Support.