Managed Services
Cost-sensitive IT management services and computer network maintenance for companies throughout Fort Myers, Cape Coral, Estero, Bonita Springs and Naples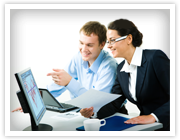 Will you ever come to terms with the budget inconsistencies with your present business technology? Secure your bottom line by partnering with Convergent Systems Technologies, Inc. for consistent computer support on a flat-rate monthly basis.
Our IT Support and IT Management ensures your company in Fort Myers, Cape Coral and Bonita Springs excellence in solutions as well as predictability of costs.
With Convergent Systems Technologies as your trusted partner in IT support, you can:
Work to a higher capacity - with IT that simplifies your business processes
Focus more energy on your core business - and adapt to changing business conditions to grow your business faster
Attain predictably in your IT costs - with the regularity of one monthly flat-rate
Rest easy - as we defend you network and data with world class security
Eliminate the stress of hidden fees with our flat-rate monthly plan that enables you to focus on the core of your business.
Convergent Systems Technologies works to find the most cost-effective solution to optimize your IT management investment, and ensure you'll never again be surprised by unforeseen IT expenses for computer network maintenance. Working for companies in Fort Myers, Cape Coral, Estero, Bonita Springs and Naples, our solutions in IT Management and computer network maintenance optimize your business technology at an affordable price.
If you should need computer server management service, network management, computer network installation, remote and on-site IT support, technology consulting, wireless networking, network infrastructure, or systems integration, we've got the solution.
Our first rate customer service and support lets you finally stop stressing over your computer network. With superior computer network maintenance services that come with predictable cost, doing business can become your first priority again.
---
Areas Covered
We provide a range of Computer Support, Network Services and IT Consulting in Fort Myers, Cape Coral, Bonita Springs, Port Charlotte and Naples.
Local experts who can visit on-site: Fort Myers Network Services, Cape Coral Managed Services, Bonita Springs Backup and Data Recovery, Fort Myers IT Consulting, Cape Coral Cloud Computing, Bonita Springs VoIP and Phone Systems, Fort Myers Virturalization, Cape Coral Computer Hardware, Bonita Springs Office 365 and Naples Computer Support.