Security
Computer Data Security and Network Security for companies like yours in Fort Myers, Cape Coral, and Bonita Springs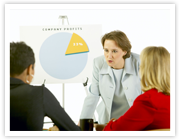 Are you concerned about the threat of malware, viruses, and hackers, and are not taking action because of the cost? Or just as bad, the risk of lost laptops and flash drives creating an internal threat?
With Computer Data Security solutions that keep you secure, protecting your business has never been easier. Our affordable strategies in Wireless Network Security and Virus Removal will instill complete confidence in the safety of your system in Fort Myers, Cape Coral and Bonita Springs.
Well-planned security architecture from Convergent Systems Technologies includes:
Hazard Detection - defense against hackers and other online threats
Liability Disclosure - we find weak links in your IT infrastructure and offer ways to fix them
Anti-Virus and Spam Solutions - guard against malware and spyware
Secure User Entry Tools - for passwords, VPNs, and encrypted data
Security has never been simpler or more affordable, with budget-friendly solutions that cover all your bases.
Convergent Systems Technologies, Inc. designs security solutions that are customized to meet the unique challenges and budgetary requirements your business faces. Serving Fort Myers, Cape Coral, Estero, Bonita Springs and Naples, we provide Wireless Network Security services that have a built-in flat-rate cost your budget will like.
Should your business requirements include data security management, internet security, network and data security, PC protection, spyware protection, computer data security, wireless network security, or virus removal, you can depend on us.
Completely safeguarding your data and computer systems is the only safe answer. Safeguard your success, with Virus Removal, Spam Prevention, and Computer Data Security that won't wreck your budget.
---
Areas Covered
We provide a range of Computer Support, Network Services and IT Consulting in Fort Myers, Cape Coral, Bonita Springs, Port Charlotte and Naples.
Local experts who can visit on-site: Fort Myers Network Services, Cape Coral Managed Services, Bonita Springs Backup and Data Recovery, Fort Myers IT Consulting, Cape Coral Cloud Computing, Bonita Springs VoIP and Phone Systems, Fort Myers Virturalization, Cape Coral Computer Hardware, Bonita Springs Office 365 and Naples Computer Support.