On Demand Services
Investment worthy IT Help and reliable computer PC Repair with round-the-clock availability in Fort Myers, Cape Coral, and Bonita Springs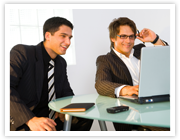 Does it get harder and harder to find the affordable computer repair and support you need to maintain your technology? With computer software help at your disposal, using your technology has never been simpler.
Convergent Systems Technologies, Inc. delivers the expert computer PC repair and software &amp; IT help that will allow you to see your IT as a valuable investment instead of a liability in your Fort Myers, Cape Coral and Bonita Springs business.<
Convergent Systems Technologies can create a solution for your IT issues with:
An on-call team of IT professionals - expert support that's there for you always
Flexible pricing - never pay for technology services you don't want or need
Speedy response times - mean you spend less time hassling with your technology
A competitive advantage - enjoy the same technology larger companies have
On Demand IT Help & Support allow you to eliminate the stress of using your technology and focus on growing your success.
The highly skilled professionals at Convergent Systems Technologies provide the assistance you need when your business technology is down. Serving Fort Myers, Cape Coral, Estero, Bonita Springs and Naples, our IT & software help and computer tech support can help your business increase profitability, productivity, and efficiency.
Should your business need PC tech support help online, computer diagnostics, remote PC repair, software help, computer repair services, software help, online computer support, computer help, computer and technology support, fix computer problems, or PC & IT help, you can count on us.
Had enough of untrustworthy computer repair companies? Get a dependable solution, with IT help you can count on for your business.
---
Areas Covered
We provide a range of Computer Support, Network Services and IT Consulting in Fort Myers, Cape Coral, Bonita Springs, Port Charlotte and Naples.
Local experts who can visit on-site: Fort Myers Network Services, Cape Coral Managed Services, Bonita Springs Backup and Data Recovery, Fort Myers IT Consulting, Cape Coral Cloud Computing, Bonita Springs VoIP and Phone Systems, Fort Myers Virturalization, Cape Coral Computer Hardware, Bonita Springs Office 365 and Naples Computer Support.