Office Moves & Wiring
Worry-Free Office Moving and Office Cable Installation services for companies throughout the Fort Myers, Cape Coral, and Bonita Springs areas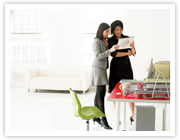 Are you worried that moving your office will disrupt your daily business practices and bring productivity to a screeching halt? Our office cable installation and office moving services take the worry out of relocation, with a strategic approach to make your business relocation easier than you ever thought possible.
With office moving and network cabling services that are customized to meet your needs, Convergent Systems Technologies, Inc. can provide a strategic move for your technology that will have you back to business in Fort Myers, Cape Coral and Bonita Springs fast.
Expert consultants from Convergent Systems Technologies can provide the following office cable management services and office moving solutions quickly and efficiently:
Office Cabling and Wiring - including fiber optics for existing offices as well as new construction
Business Relocation - including comprehensive network, workstation, printer, and server relocation
Coordination of your Move - which includes your Website, email, telephony, and Internet
Blueprints for Cabling and As-Builts - to create a reliable infrastructure for your new network
If the idea of relocating your business and technology is becoming more than you can handle, take advantage of a stress-free partnership with our team of experts.
Convergent Systems Technologies is the partner you can count on for a simplified, stress-free office move. Serving Fort Myers, Cape Coral, Estero, Bonita Springs and Naples, our office cable management services are the solution you need to keep your business up and running during relocation.
Whether you rely on us for network cabling design, office cable management, office moving, network cabling analysis, communications & network cabling, equipment/server racks, office cabling services, or structure cabling, you can relax knowing your business is in competent hands.
In the design and creation of your cabling plan, we instill confidence that your plan is not only strong and secure, but lasting as well. We've got your future in mind with our office cabling services and office moving solutions, easing your worries about IT infrastructure today and tomorrow.
---
Areas Covered
We provide a range of Computer Support, Network Services and IT Consulting in Fort Myers, Cape Coral, Bonita Springs, Port Charlotte and Naples.
Local experts who can visit on-site: Fort Myers Network Services, Cape Coral Managed Services, Bonita Springs Backup and Data Recovery, Fort Myers IT Consulting, Cape Coral Cloud Computing, Bonita Springs VoIP and Phone Systems, Fort Myers Virturalization, Cape Coral Computer Hardware, Bonita Springs Office 365 and Naples Computer Support.