IT Consulting
Trustworthy IT Consulting and IT Outsourcing for companies in Fort Myers, Cape Coral, Estero, Bonita Springs and Naples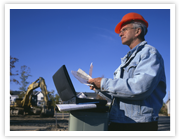 Do you have concerns that your current business technology might not be as reliable, efficient, and cost effective as it should be? Streamlined technology from IT Consulting services meet the needs of your growing business and secure its future.
Convergent Systems Technologies, Inc. provides Chief Information Officer Consultant (Virtual CIO) and IT Outsourcing services that will make using technology easier and simplify the way you do business in Fort Myers, Cape Coral and Bonita Springs.
Stress-free IT Consulting services from Convergent Systems Technologies include:
Analysis of Technology - our technicians isolate potential problems in your company's IT system and develop an IT solution that will make doing business easier.
Technology Installation - using strategic vendor partnerships and diligent planning, our experts install your custom IT plan, to ensure your technology solution meets the unique challenges your business faces.
IT Facilitation - our team of experts develops a security solution for the disaster protection of your business needs.
Synergetic collaboration with our IT consultants yields the best IT solutions for your business.
Convergent Systems Technologies brings the best in dependable Virtual CIO and IT outsourcing solutions, eliminating all the hassles. Serving Fort Myers, Cape Coral, Estero, Bonita Springs and Naples, our IT Consulting Services eliminate the complexities of your technology for a more streamlined business.
Whether your business requires computer consultancy, IT outsourcing, IT consulting services, outsourced IT, technical support and IT outsourcing services, small business server consulting, network consulting, computer security consultants, or Virtual CIO (Chief Information Officer) service, you can count on us.
You can get on with bigger and better things in your business when you are freed from the worries of technology. With an IT Consultant as your partner in technology, you can rely on our expertise to help your business succeed.
---
Areas Covered
We provide a range of Computer Support, Network Services and IT Consulting in Fort Myers, Cape Coral, Bonita Springs, Port Charlotte and Naples.
Local experts who can visit on-site: Fort Myers Network Services, Cape Coral Managed Services, Bonita Springs Backup and Data Recovery, Fort Myers IT Consulting, Cape Coral Cloud Computing, Bonita Springs VoIP and Phone Systems, Fort Myers Virturalization, Cape Coral Computer Hardware, Bonita Springs Office 365 and Naples Computer Support.