Hardware as a Service
Affordable hardware and operating systems without the headaches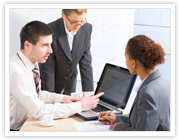 Hardware as a Service programs from Convergent Systems Technologies are an effective way to ease your frustrations from the regular need for new equipment and operating systems and its effect on your budget.
With a flat monthly fee for equipment and warranty service, we eliminate large capital outlays and allow IT equipment costs and related maintenance services to qualify as operating expenses, providing you with significant tax advantages.
As an Intel Hybrid Cloud partner, we provide infrastructure hardware, operating systems, and other software and warranty services for servers, desktops, laptops, routers, switches and firewalls.
Let us bring predictability to your expenses as well as your revenue and profits.
---
Areas Covered
We provide a range of Computer Support, Network Services and IT Consulting in Fort Myers, Cape Coral, Bonita Springs, Port Charlotte and Naples.
Local experts who can visit on-site: Fort Myers Network Services, Cape Coral Managed Services, Bonita Springs Backup and Data Recovery, Fort Myers IT Consulting, Cape Coral Cloud Computing, Bonita Springs VoIP and Phone Systems, Fort Myers Virturalization, Cape Coral Computer Hardware, Bonita Springs Office 365 and Naples Computer Support.