CloudadVantage
Dependable cloud computing solutions that fit your budget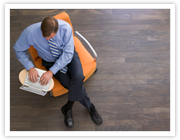 Think the power of cloud computing is out of reach for your business? Think again. No matter what the size of your organization, CloudadVantage solutions from Convergent Systems Technologies allow you to enjoy the benefits of dependable cloud solutions in order to increase efficiency and free up company resources – all for a price that fits your business and your budget.
With CloudadVantage from Convergent Systems Technologies, Inc., using, upgrading and maintaining your IT has never been simpler. Your software and applications are hosted by our team of experts, which means you can eliminate the cost of investing in new infrastructure, licensing new software and training new employees - saving you money and letting you focus on your business.
Plus, as a provider of the Intel® Hybrid Cloud, we offer businesses like yours the power to enjoy software and services with the pay-as-you-go benefits of cloud computing and Microsoft Office 365, along with the confidence that comes with on-premise hardware.
Convergent Systems Technologies is both an Intel Hybrid Cloud Partner and a Microsoft Cloud Essentials Partner, so you can count on us for true cloud computing expertise.
CloudadVantage: Microsoft Office 365
Microsoft Office 365 gives your business the power of cloud productivity, allowing you to save time, money and free up valued company resources. This solution combines the Office desktop suite you're already familiar with and cloud-based versions of next-generation communications and collaboration solutions, including Exchange Online, SharePoint Online and Lync Online.
---
Areas Covered
We provide a range of Computer Support, Network Services and IT Consulting in Fort Myers, Cape Coral, Bonita Springs, Port Charlotte and Naples.
Local experts who can visit on-site: Fort Myers Network Services, Cape Coral Managed Services, Bonita Springs Backup and Data Recovery, Fort Myers IT Consulting, Cape Coral Cloud Computing, Bonita Springs VoIP and Phone Systems, Fort Myers Virturalization, Cape Coral Computer Hardware, Bonita Springs Office 365 and Naples Computer Support.