Business Continuity Planning
Complete data backup and disaster recovery for businesses throughout Fort Myers, Cape Coral, Estero, Bonita Springs and Naples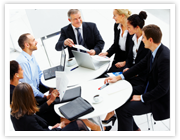 Are you constantly worried about the security of your business, including what might happen if a natural or manmade disaster were to occur? If you think a single event could put you out of business, it's time to consider a disaster recovery plan that has you covered, no matter what.
Convergent Systems Technologies, Inc. offers strategies for data backup, computer hard drive backup, and complete hardware and system recovery to ensure the protection of your business data from unforeseen disasters in Fort Myers, Cape Coral and Bonita Springs.
With a Business Continuity Planning and Disaster Recovery solutions from Convergent Systems Technologies, you can:
Lay your fears of an impending disaster to rest - we are your one-stop-shop for all of your backup needs
Have your data and systems continually backed up - have your data and systems continually backed up, automated, and always up-to-date
Eliminate risk due to potential liabilities with lost customer data - ensure your critical customer data is never lost
Rely on rapid recovery - if a disaster occurs, we'll have you up and running in no time
Take a more comprehensive approach to safeguarding your company's data - we make sure your systems, email, and more are protected and ready for disaster recovery
With a reliable Business Continuity Planning with full backup and recovery solutions for your business, you can say goodbye to the constant worry that comes with running a business.
Convergent Systems Technologies tailors each business continuity and disaster recovery strategy to suit the specialized needs of your individual company. Serving Fort Myers, Cape Coral, Estero, Bonita Springs and Naples, we provide the reliable data backup and computer hard drive backup services you need to defend what matters most.
Should your business require secure offsite data backup service, disaster recovery and business continuity solutions, online server, file recovery, hard drive and computer recovery, or data storage solutions, we're there for you 24x7.
Predicting the future is impossible, but preparing for what could come your way is easier than ever. Our advanced disaster recovery strategies keep you moving forward.
---
Areas Covered
We provide a range of Computer Support, Network Services and IT Consulting in Fort Myers, Cape Coral, Bonita Springs, Port Charlotte and Naples.
Local experts who can visit on-site: Fort Myers Network Services, Cape Coral Managed Services, Bonita Springs Backup and Data Recovery, Fort Myers IT Consulting, Cape Coral Cloud Computing, Bonita Springs VoIP and Phone Systems, Fort Myers Virturalization, Cape Coral Computer Hardware, Bonita Springs Office 365 and Naples Computer Support.